Plastic Letters
Easy to Buy - Easy to Fit!


View a few of our Plastic Letters
Use the price checker below to check the price
You can then submit your order and pay online or if you're not quite sure just submit your order online, select the "Call to Pay" option then call us on 01288 580310
We can then check and discuss your order and if you're happy just confirm and pay on the phone or online - if not, just cancel it - easy!
We try to keep our website as easy to use as possible but you'll find our flexibility, range and prices hard to beat!
Our plastic letters and plastic numbers are Laser Cut from shiny 3mm or 5mm high quality cast acrylic
They are available in a huge choice of fonts, sizes, colours and fitting methods
You can specify the exact height of the letters you require
You can choose from a large range of popular fonts
Choose from a range of colours in 2 thicknesses
Choose from 4 different fixing methods
Call us on 01288 580310
Our lines are open Mondays to Thursdays 10am to 4pm
Our office is not open on Fridays
Plastic letters - Online Price Checker
Simply fill in the details - then click to order or call us if the price is right !
To order more than one size or colour please complete your order for one colour or size
then click "continue shopping" in the shopping cart to return here and order more
Size of Letters or Numbers Required
The measurement we use is the height of the highest rounded capital letters
All fonts vary but this is usually the height of the rounded capital letters like the capital "O" and the "S" or the "6"
Please bear in mind the non rounded capital letters will be slightly smaller and lower case letters with a drop like the lower case "g" will drop below the base line
Height of the highest letters (rounded capitals) in millimetres
Minimum 10mm Maximum 500mm
Larger letters above 300mm high are quite fragile and need to be handled very carefully, ideally by 2 people
All letters can be supplied with peel off self adhesive backing
Letters over 50mm high can be supplied with 3mm screw holes and 25mm stainless steel screws
Letters over 100mm high can be supplied with 3mm screw holes, 25mm stainless steel screws and matching colour caps
View and select the available fittings below
Select the colour and thickness you require here
FITTING METHODS
We can supply plastic letters in any size from 10mm high to 500mm high
Please have a look at the following pictures and select your fitting method here
You can order any of our letters with a peel off self adhesive backing
You can order Letters of 50mm or higher with 3mm screw holes and 25mm stainless steel screws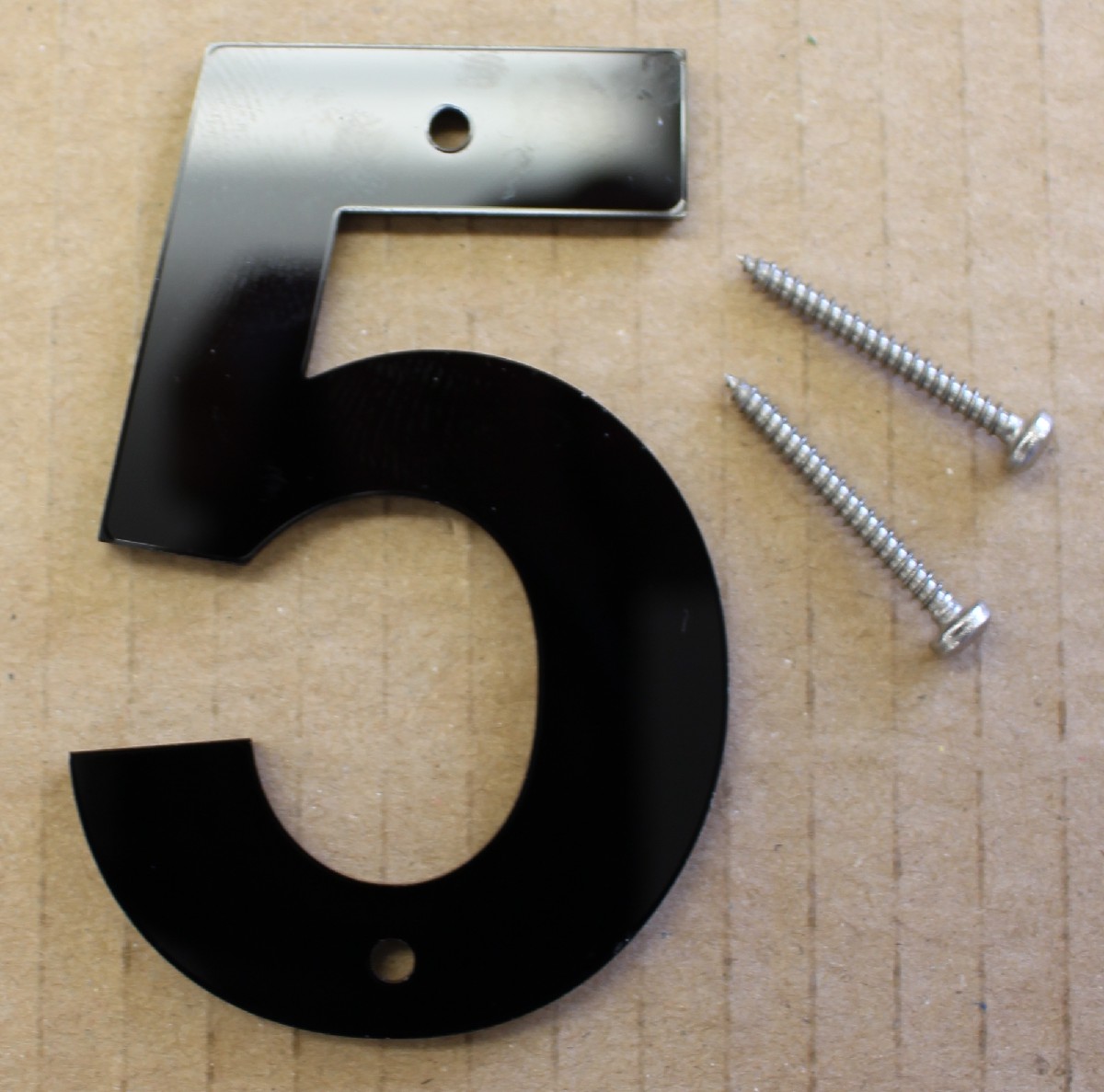 PLEASE NOTE
Our matching colour screw caps are only suitable for letters over 100mm high and are available in Black, White, Red, Blue, Green, Yellow, Orange, Gold and Silver
For other colours we will send the nearest match we have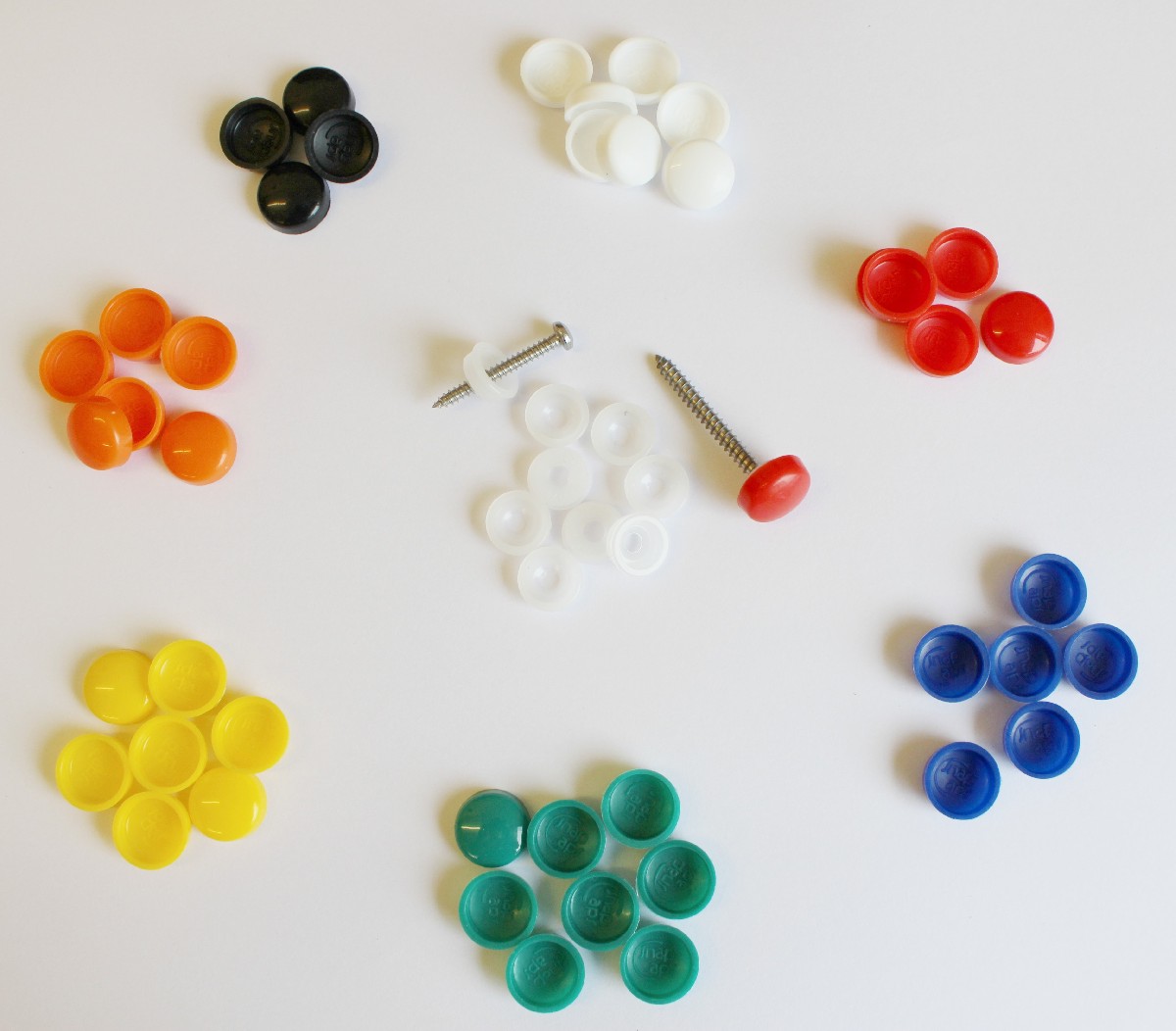 You can order Letters of 100mm or higher with 3mm screw holes, 25mm stainless steel screws and matching screw caps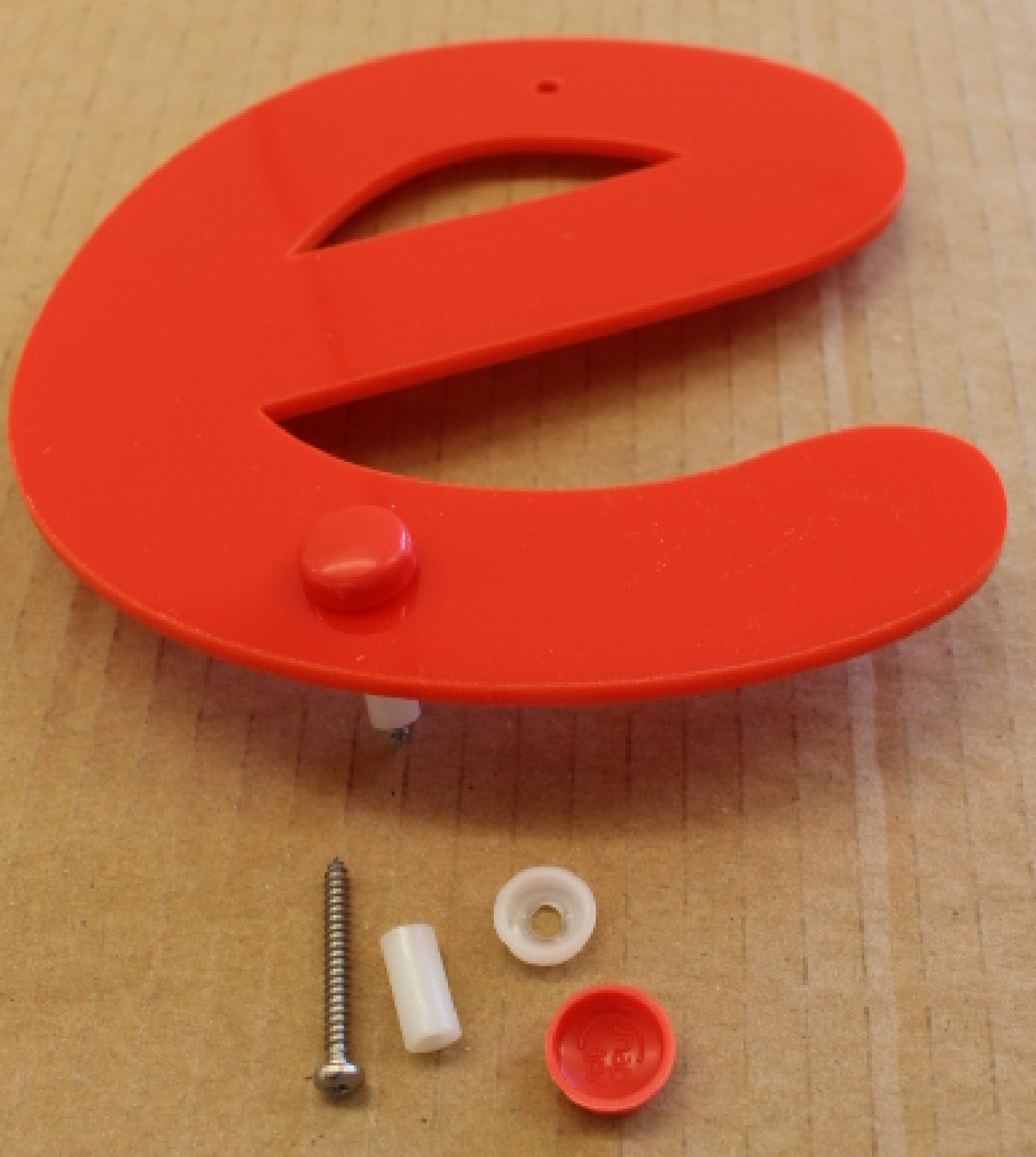 You require letters The price per letter is &pound
The total price of your order INCLUDING UK VAT and postage is &pound
PLEASE make sure the letters are correct and that you have used capitals
and lower case letters, full stops, commas etc where required before ordering
WE WANT TO GET THEM RIGHT AS MUCH AS YOU DO !
Our Laser Cut Plastic Shapes and Plastic Letters have thousands of uses
Click here to see a huge selection of our custom made products
We started in business in 1979 as clock material suppliers and we originally started making laser cut plastic shapes to give
our clock customers a greater choice of shapes and colours for clock hands, dials and pendulums. They have now been
supplied for use as school dinner tokens, badges, tile spacers, light switch backings, earring stands, shop displays,
casino chips, coasters, drain cover markers, fitting room discs, signs, house numbers, numbered plastic counters
jewellery stands, fire alarm backings, acrylic earrings, acrylic bracelets, acrylic necklaces, table numbers
covers for holes in kitchens and bathrooms and many many other strange things !
Please note
We can not undertake design work and we can not make complicated letters or shapes requiring high tolerances
Click here for Laser Cut Plastic Shapes
Click here for Laser Cut Plastic Discs
It's easy to order from C & L Mail Order Ltd!
Our minimum order is only �10
You can checkout and pay securely online or you can order online and phone us
on 01288 580310 with your card details if you prefer







Visa, Mastercard, Maestro, JCB, American Express and Paypal are all welcomed
Please feel free to phone us with your order if you prefer to speak to someone
01288 580310 - Open Monday to Thursday 10am to 4pm
We only operate by mail order
We do not have a shop or any facilities for visitors so we are unable to make up orders while you wait or for collection
C & L Mail Order Ltd
Bridgerule
Holsworthy
Devon
EX22 7ED
Tel 01288 580310
email
We are always closed for Easter week, Christmas week
and August bank holiday week